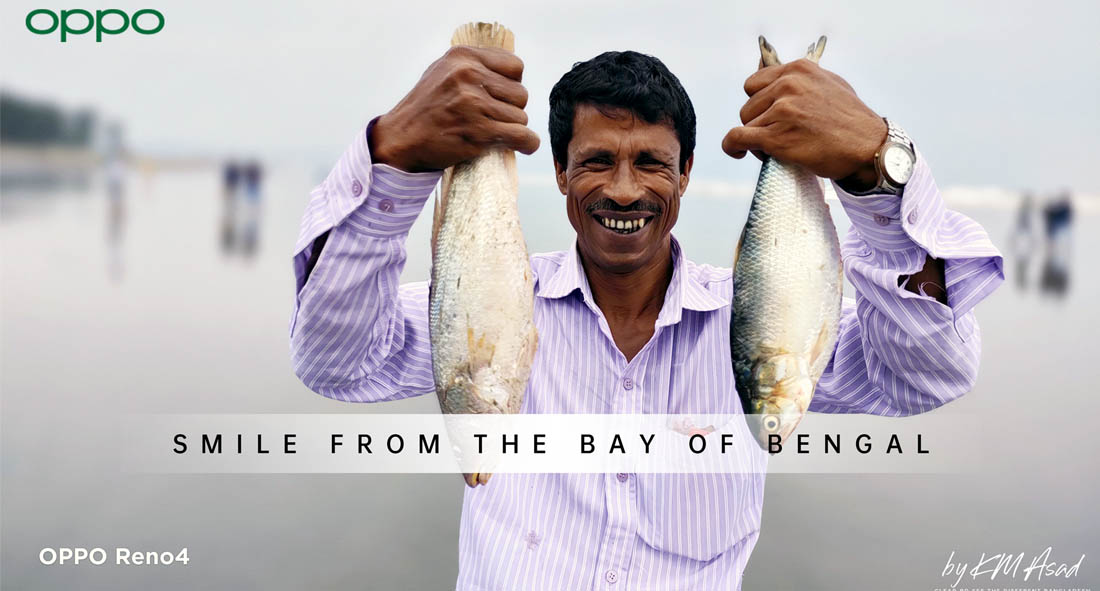 "I always look for the hidden beauties around us which easily represent this vibrant county. And it becomes very easy when you have an amazing camera performance on your daily smartphone, because unlike a camera, you take it everywhere. And the newest OPPO Reno4 can be a perfect photography companion," said prominent Bangladeshi documentary photographer and a photojournalist KM Asad.
Bangladesh is land of river, green and colourful lifestyle. To explore this vast land of prosperity is such a drag. But Mr. Asad believes it can be very easy with a smartphone like OPPO Reno4 as it comes with such a versatility that is perfect for capturing every moment. The renowned photographer has been experiencing OPPO's latest addition to the Reno series – Reno4 on a daily basis for a while and capturing a beautiful photograph across the country as a part of OPPO's #Clear-BD campaign to show a different Bangladesh.
OPPO Reno4 has built in stunning AI Color Portrait filter. This astonishing feature captures the subject in color leaving everything else black and white, creating a vivid monochromatic background. As a result, the subject becomes more appealing to the eyes in front of a complicated backdrop and gets the well-deserved attention from the viewers.
OPPO Reno4 is comprised with 48MP primary camera, 8MP ultrawide lens, 2MP monochromatic lens and every lens helps to take the perfect photograph. Cox's Bazar, world's longest natural sea beach can be truly discovered by this stunning camera setup. The people, the lifestyle, the struggle can be captured and recorded with amazing sharpness, clarity and high dynamic range.
In the famous boutique in Narsingdi, the colors are very eye-catching and telling stories about the workers and their lives becomes easy trough these amazing lenses. Various filters immensely helps you to master the mobile photography while taking portraits. And with Ultra Steady Video 3.0, panning and tilting the camera with bare hand has become really easy with OPPO Reno4. Consequently, the camera phone will enable you to capture the colors that you see with such ease that will amaze you. With wonderful steadiness and smoothness your videos will be sharable on social platforms without even any editing.
The people across Bangladesh leads a simple life and are very jolly minded. Little things can make them smile, such as Hilsa, the national fish of the country. Empowered with AI Color portrait, Reno4 can easily capture the unconditional happiness.
Mr. Asad has been working as a photojournalist and a visual storyteller for a long time. Currently working with Zuma Press news agency and as a contributor photographer at Getty Images. His work has been published by The Guardian, Time, CNN, BBC, New Internationalist, The New York Times, Asia Time, The Telegraph, Discovery Channel magazine, The Wall Street Journal etc. and earned him global accolades. He has won numerous awards for his amazing photographs.